Poisoned Pen Press

Hardcover

ISBN: 1-59058-302-9

December, 2006

$24.95

Trade paperback

ISBN: 1-59058-478-3

May, 2007

$14.95

LARGE PRINT

ISBN: 1-59058-303-6

March, 2007

$22.95

MORE PRAISE FOR TRIPLE CROSS . . .

"Just as a horse recognizes when sure hands gather the reins, from the first page of Triple Cross, I found myself on the bit and ready to go wherever Kit Ehrman led. Set in Louisville as Derby excitement builds ... the mystery unfolds with a clocker's precision while deftly capturing the city, the track, and its thoroughbred stars."

~Robbee Huseth, bookseller

"Ehrman's best mystery novel yet. The plot is gripping, words seem to flow off the page and into your imagination . . ."

~The Strand Magazine

"Ehrman dishes up the delectable young sleuth Steve Cline in an action-packed mystery [where] he also faces his own issues about life, love and temptation -- put your betting money on another Ehrman winner."

~In & Around Horse Country

"The story progresses with the customary flavor of previous novels, excellent descriptions of caring for horses and the racing world especially the flavor of Derby fever . . . another great read, right down to the finish line."~Midwest Book Review

" . . . well-told and well-plotted, providing the reader with thrills aplenty in the buildup to the Kentucky Derby."

~Louisville Courier-Journal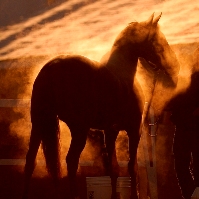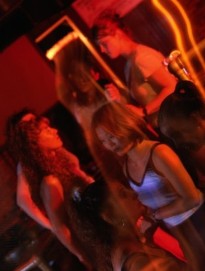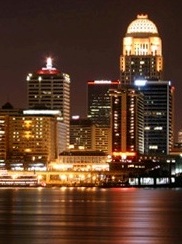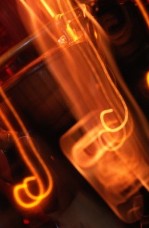 K i t   E h r m a n . . .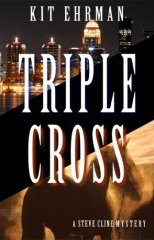 TRIPLE CROSS

FUN STUFF . . .

TAKE THE TOUR . . .

Site content copyrighted 2006/2013 by Kit Ehrman.  
top of page
Louisville Skyline photo by Fleur-Design.net

She eased back against her chair, folded her arms at her waist, and crossed her legs. She scanned the room and nodded ever so slightly. "This is nice."

I glanced wistfully at Corey's discarded crab cake before following her gaze. Maker's Mark had strived for extraordinary when they designed their flagship lounge, and they'd achieved it. The hard lines of cold marble tabletops and massive columns finished with gleaming crimson tiles were softened by a dramatic blend of warm blond wood and black leather and fluid walls of sheer curtains, all of it muted by soft recessed lighting. But the bar and glass shelving behind it were what caught the eye. Both were ingeniously lit so that the rows of amber-colored bottles displayed there, and seemingly dripping with the signature red wax of Maker's Mark, glowed from within.