Poisoned Pen Press

Hardcover

ISBN: 1-59058-302-9

December, 2006

$24.95

Trade paperback

ISBN: 1-59058-478-3

May, 2007

$14.95

LARGE PRINT

ISBN: 1-59058-303-6

March, 2007

$22.95

MORE PRAISE FOR TRIPLE CROSS . . .

"Just as a horse recognizes when sure hands gather the reins, from the first page of Triple Cross, I found myself on the bit and ready to go wherever Kit Ehrman led. Set in Louisville as Derby excitement builds ... the mystery unfolds with a clocker's precision while deftly capturing the city, the track, and its thoroughbred stars."

~Robbee Huseth, bookseller

"Ehrman's best mystery novel yet. The plot is gripping, words seem to flow off the page and into your imagination . . ."

~The Strand Magazine

"Ehrman dishes up the delectable young sleuth Steve Cline in an action-packed mystery [where] he also faces his own issues about life, love and temptation -- put your betting money on another Ehrman winner."

~In & Around Horse Country

"The story progresses with the customary flavor of previous novels, excellent descriptions of caring for horses and the racing world especially the flavor of Derby fever . . . another great read, right down to the finish line."~Midwest Book Review

" . . . well-told and well-plotted, providing the reader with thrills aplenty in the buildup to the Kentucky Derby."

~Louisville Courier-Journal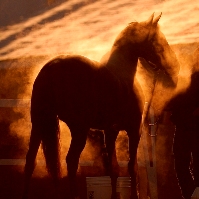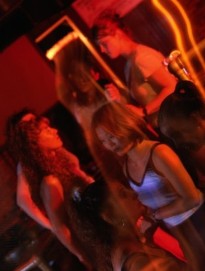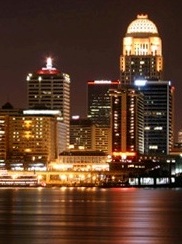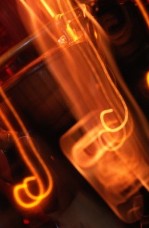 K i t   E h r m a n . . .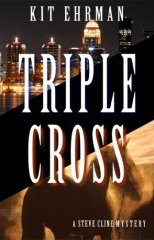 TRIPLE CROSS

FUN STUFF . . .

TAKE THE TOUR . . .

Site content copyrighted 2006/2013 by Kit Ehrman.  
top of page
Louisville Skyline photo by Fleur-Design.net

Dressed in an exquisitely tailored suit that managed to appear expensive and casual at the same time, he smoothed a broad, deeply tanned hand over graying hair that swept across the top of his head from a low part. Paige said something, and he bent toward her. Voices and footsteps echoed off the lobby's hard surfaces, and the sound of idling vehicles drifted through the open doors at my back.

I wondered who he was and what he did for a living that necessitated having three bodyguards in attendance while he spent a leisurely afternoon at the races.

He nodded in response to Paige's statement, and as he straightened, he glanced at the glass sculpture overhead. His gaze fell on me briefly before he checked the location of his point man who had preceded them to the first level. He stood to my right, hands loose at his side as he scanned the crowd.